2021.06.19

JOIN OUR TEAM!!




Recruitment of Festival staff
We are looking for the following four types of staff to work with us for the festival.
・support staff (volunteer)
・internship
・sub-leader (part-time)
・venues leader
Click here to see the details of each recruitment type and to enter the application process.
"I like art and photography, I like people, I like Kyoto, I like festivals! "I want to enjoy the festival from a different point of view than the visitors. "I want to enjoy Kyoto in autumn from a different angle. "I want to meet and interact with other art and photography lovers, or I'm looking for an opportunity to start something new. We welcome everyone. Every year, a variety of people from junior high school students to the elderly are active in this event.
No experience necessary. There are no difficult tasks. Please feel free to apply first. We are looking for people who can work with a spirit of hospitality, mainly during the exhibition period from September to October.
Now that we have reaffirmed the importance of connecting with others and having fun together, why don't we enjoy the festival together?
The details of the event and activities will be determined according to the infection status of the new coronavirus, and we will proceed after taking sufficient countermeasures against infection while listening to your opinions. If you have any questions or concerns, please do not hesitate to contact us.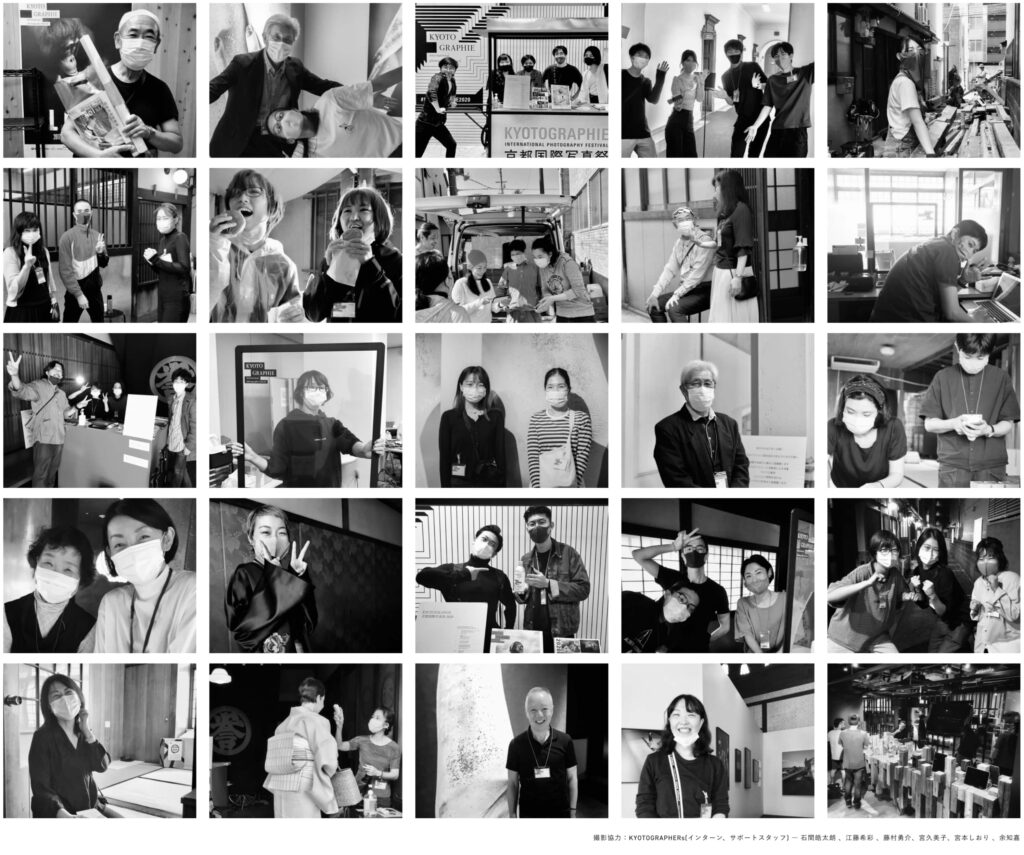 >
2021.03.12



2021.01.30



2021.01.30



2021.01.13

Marjan Teeuwen "Destroyed House" / Atsushi Fukushima "Bento is Ready" Exhibition's re-opening of the exhibition has been cancelled




Itoyu Machiya
We regret to inform you that re-open two artists's exhibitions of KYOTOGRAPHIE 2020 has been canceled until further notice.
We apologize for any inconvenience this may cause.
The latest information will be posted on our website and our social network pages.
① Marjan Teeuwen "Destroyed House"
  ①-1: Photo Exhibition: Destroyed House
  ①-2: Architectural Installation: Destroyed House Kyoto
② Atsushi Fukushima "Bento is Ready"
Venue: Itoyu Machiya
Dates:
2020.11.21 Sat. — 2020.11.23 Mon.
2021.1.22 Fri. — 2021.1.24 Sun.
2021.2.11 Thu. — 2021.2.14 Sun.
Time: 12:00–18:00(Last entry is at 17:30)
Fee:¥1,200(① & ②) (Student: ¥1,000)
Special fee: ¥800 (Student: ¥600)
  *Please present KYOTOGRAPHIE 2020 Passport Ticket, and you could see only ①-2 exhibition with this fee

2020.12.23

KYOTOGRAPHIE 2020 Closing Report



The Closing Report of KYOTOGRAPHIE 2020 is now on the website.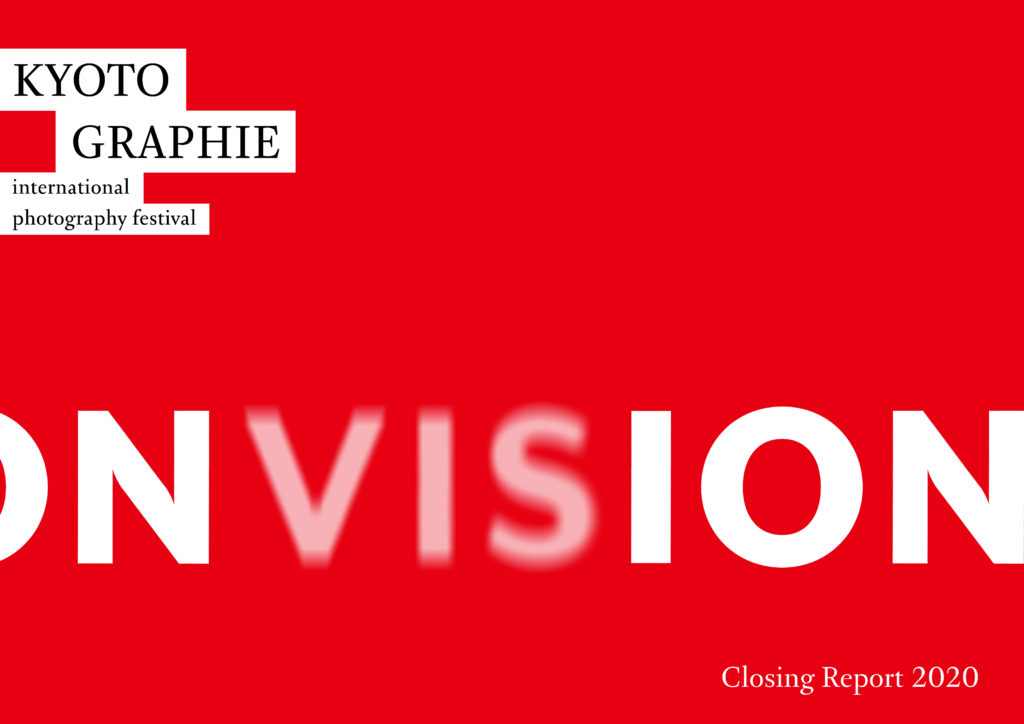 2020.09.24

8b DELTA / KYOTOGRAPHIE Permanent Space: Change in Opening Hours / Teaser site has been launched



The opening hours of DELTA / KYOTOGRAPHIE Permanent Space have been changed as follows:
Sun.-Thu. 9:00-18:00 (17:30 L.O.)
Fri.&Sat. 9:00-21:00 (20:30 L.O.)
Thank you for your kindly understanding.

Its teaser site has been launched!
You can see the cafe menu and images etc..
Please check it out.
2020.09.21

Reservation for Marjan Teeuwen & Marie Liesse exhibition



For this edition of KYOTOGRAPHIE, the festival will limit the number of people in each exhibition space, implementing, where possible and reasonable social distancing, this is as a part of the festival's COVID-19 preventive measures.
Since longer waiting times are expected at some of the venues (listed below)
we recommend that you make an advance reservation online.
This will help to avoid disappointment and waiting times.
05. Marjan Teeuwen | Venue: Itoyu Machiya
09. Marie Liesse | Venue: Atelier Mitsushima Sawa-Tadori
09. Marie Liesse | Huratto Program
2020.09.10

Advance tickets are on sale on Peatix from Friday, 4 September



Advance sale of passport tickets on Peatix started on Friday, 4 September.
Passport ticket (Adult) 3,500 JPY
Passport ticket (Student) 2,500 JPY
are available online.
2020.02.29

Announcement to postpone KYOTOGRAPHIE 2020



In light of the global spread of COVID-19 we decided to postpone KYOTOGRAPHIE 2020 for the safety of our audience, guests, and staff. The 8th Edition of KYOTOGRAPHIE will be now held from September 19th to October 18th, 2020.
More details will be announced soon.
In advance thank you for your understanding and please take care of yourself.
Lucille Reyboz & Yusuke Nakanishi,
Co-founders and Directors of KYOTOGRAPHIE
2019.12.04

TOKYOGRAPHIE 2019|29 Nov 2019 - 12 Jan 2020



TOKYOGRAPHIE 2019 – KYOTOGRAPHIE Special Edition – is held in Tokyo
Exhibitions inhabit different areas in the Tokyo metropolis and are mainly housed in KYOTOGRAPHIE sponsor venues. All exhibitions are free and adjusted to Tokyo's spirit. Each exhibition is a revisited version of the exhibitions presented in Kyoto early in the year.
Dates: 29 Nov Fri, 2019 ‒ 12 Jan Sun, 2020
(Venues and opening dates vary depending on the exhibition)